Ph Client
Queries Ph (phonebook) server.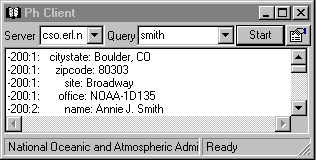 1.Enter (or select from combo box) Ph server.
2.Enter the query.
3.Click on "Start" button.
Clicking on

button will bring up "Ph Client Settings" window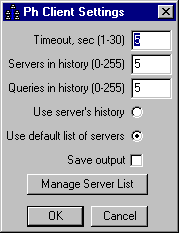 You can set ph timeout, number of servers in history, number of queries in history. You can choose what to use in server combo-box – list of servers from history or default list. You can choose if you want the output to be saved. To manage default list of servers, click on the button "Manage server list".