Port Scanner
Scans host for services running in specified port range.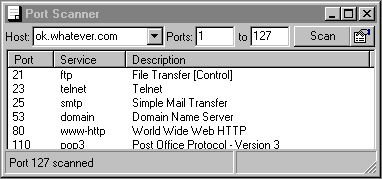 1.Enter the host name or IP address you want to scan (in our example it is "ok.whatever.com").
2.Enter the port range (in our example scanner will check ports from 1 to 127).
3.Click on "Scan" button
After scan is complete you can double-click on any port in the output list to "view" it with associated program (or default program - if there is no associated program).
Clicking on

button will bring up "Port Scanner Settings" window: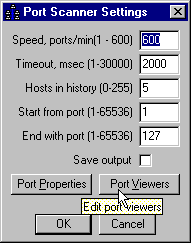 You can set scan speed, scan timeout, number of hosts to keep in history and default port range. You can choose if you want the output to be saved
Clicking on "Port Properties" button will bring up window where you can edit port information:

Clicking on "Port Viewers" button will bring up window where you can edit viewer information:
You can set following OstroSoft Internet Tools utilities as viewers:
| | | |
| --- | --- | --- |
| Port | Viewer | Path |
| 21 | ftp | OIT |
| 79 | finger | OIT |
| 105 | ph | OIT |
| 80 | htmlview | OIT |
| 43 | whois | OIT |
| 7 | echo | OIT |
| 9 | discard | OIT |
| 13 | daytime | OIT |
| 17 | qotd | OIT |
| 19 | chargen | OIT |